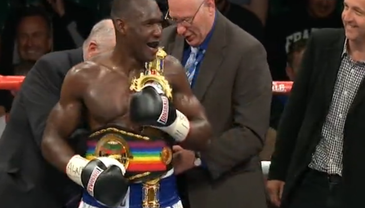 OVILL McKenzie is Commonwealth and British Cruiserweight Champion
Ovill has to fight at almost 2 stone above his preferred fighting weight, in order to box..
Original by Mark Eklid. Derby Telegraph
Ovill McKenzie lived up to his nickname of "The Upsetter" by taking the Commonwealth Cuiserweight title away from Tony Conquest in the fifth round with a dynamite right hand.
In his first outing since losing his light-heavyweight belt to Enzo Maccarinelli in August, the 34-year-old showed he had lost none of his ability to shake opponents with his power for the step up in weights.
McKenzie dropped Conquest in the third round with a big right hand that sent the champion, making a first defence, flying across the ring.
He bravely got up and fought on for the next two rounds until McKenzie caught up with him again and landed a massive right hand that dropped Conquest.
The Romford fighter stayed on his knee, unable to stand up while the referee counted him out, 58 seconds into the fifth round.
It was an 11th stoppage in 22 wins for McKenzie, who is now a three-time Commonwealth champion, twice at light-heavyweight and now at cruiserweight.
Although he has boxed for most of his career at light-heavyweight, this is not McKenzie's first success at cruiser. His victory in the Prizefighter tournament in 2009 gave his career a new lease of life.
After facing a bleak outlook when he lost to Maccarinelli, he is hoping this win has the same effect.
"I feel great and I'm over the moon to win the Commonwealth title for a third time at two different weights," he said
"Now I really want to go for a world title which I am missing in my career. I know I can win it, I've got the punch to do it."